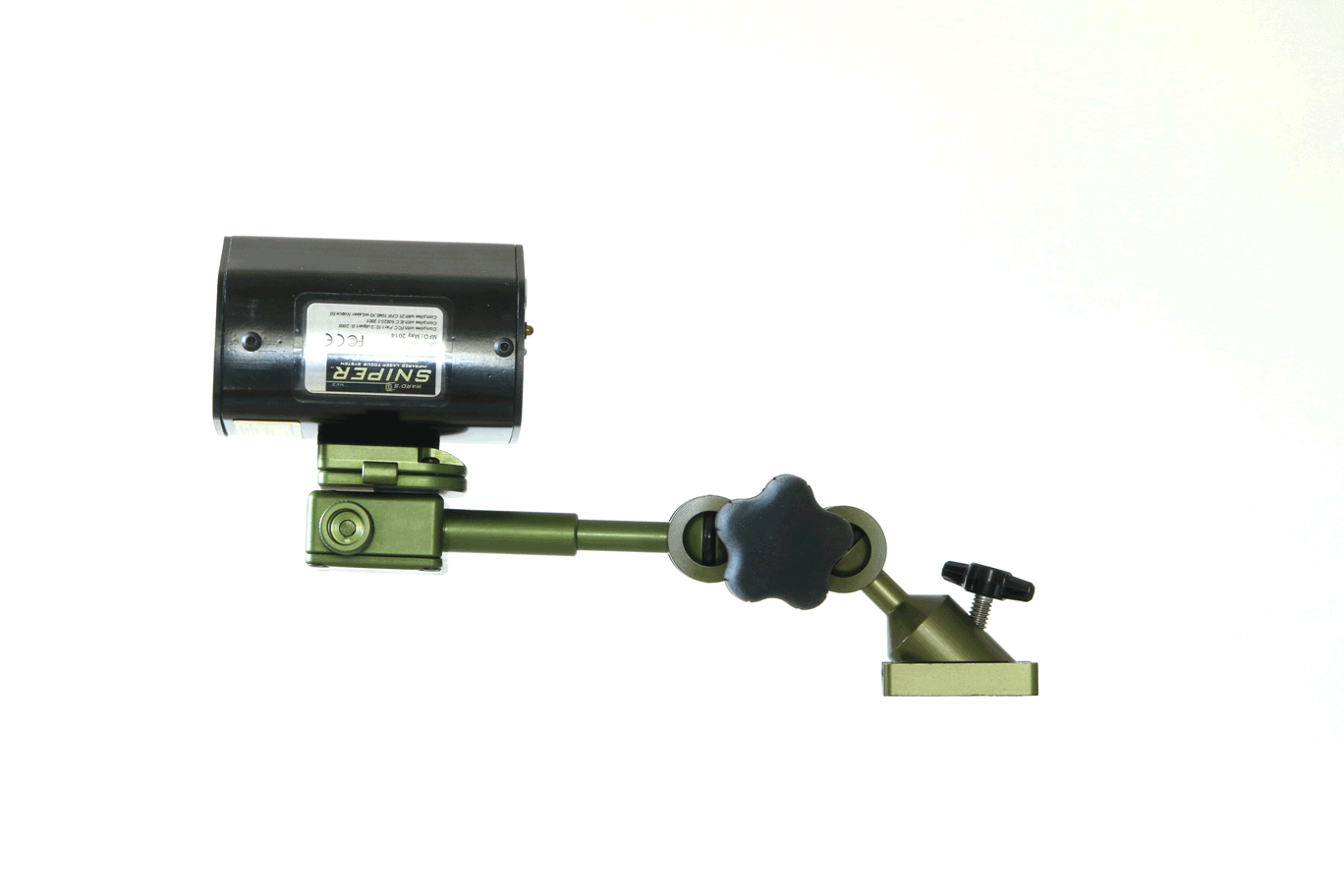 This is our fastest and most accurate laser to date. With wireless integration the diversity is unparalleled.
Class 2 Laser
Abilities: The Mark 3 can measure traditionally rise over run like most aids on the market. What distinguishes the Mark 3 from other devices first of all is the speed of the unit. Also, the advantages of being a laser allow it to measure through mirrors, (no more pulling a tape on those critical bank shots), and it can measure through glass, If the glass is clean and no tint or glare kick. Basically, what the human eye sees, the Mark 3 sees. With the speed of the newly developed OLED, (Organic Light Emitting Diode), the display continuously updates at a rate near 30 hertz, and achieves the same speed wireless with zero latency.
Other new products:
Xylons (See

3 Tools in 1 video

The 17 deg Xylon presents a line of measurement at 10 feet of 2′ 6″, exponentially, good for wider focal lengths.
The 5 deg Xylon presents a line of measurement of 10″ at 10′, exponentially; good for tight overs.
Without either Xylon attached, the Mark 3 performs like the traditional MK 2, one inch wide measurement up to 1000 feet.
Weight: 7.88 ounces (one ounce more than an iPhone)
Preston Interface – Arri interface – Chrosziel  Interface  – C Motion Interface  –  The Sniper's distance measurements will display on both the Sniper's display and the  wireless handset at the same time.
Sniper Arm
Pan  Bracket
Limitations:
Smoke on set. When smoke is used on set the laser, much like the human eye, sees it.
Solution: We've developed another first; we call it the Smoke Iris. This simple devise attaches to the shoulder screw of any of the face plate attachments. When attached, the user can close down one sensor to the desired degree depending on the intensity of the smoke being used on set. (This will come standard with each unit). It allows penetration through most light smoke environments, when its dense or patchy thick, it will enable up to 50 feet of accuracy. This varies to the users familiarity of its functionality. See Smoke Iris video at Youtube or Vimeo
Pro Package Includes:
$8,600 (includes shipping [continental U.S. FedEx ground],Taxes and Import Duties not included)
Mark 3 (Wards Sniper Infrared Laser Assembly)
Display (Wireless/Wired)
Pan  Bracket (Universal 1/4-20 thread)
Smoke Iris Assembly
Sniper Arm Assembly (customizable, 2 & 1/4 inch extension comes standard in price, Green, Universal 1/4-20 thread, Two 3/8-16 to 1/4-20 thread adapters included)
4 Bank Pro Battery Pack and Charger with 4 Batteries (700mAh)
Xylons

17 degree Aspheron
5 degree Aspheron

Display Cable 3 feet
Custom Case (with nameplates)
Power cables are extra at $225 (3 feet length with 90 degree connector at Sniper end)
ALL PURCHASES AFTER INITIAL PURCHASE ARE A LA CARTE PRICING
A LA CARTE ITEMS:
 

$6,000

MARK 3 LASER ONLY

$1,800 

  MARK 3 PRO DISPLAY

$7,800

  MARK 3 LASER AND NEW PRO DISPLAY 
XYLON ATTACHMENTS (WIDE BEAMS)

5 DEGREE $1200 each
17 DEGREE $1200 each
OPTICAL FLAT $60 each

SMOKE IRIS $135
CABLES

Power, Preston Interface, and Extra Display $225ea

PAN BRACKET $800ea
         UPGRADE  to GEARED PAN BRACKET $340
GEARED PAN BRACKET  

$1000

3/8 BASE  

$98  

SNIPER ARTICULATING ARM $220 each
PRESTON INTERFACE      

Firmware  $50
Cable        $225

                                                                     

With a data input connector on either side
Now more responsive
Brighter OLED readout
Thicker, more durable "PEEK" housing
Spring loaded battery compartment
Greater wireless range
Payment can be made either of three ways .(1) Bank Transfer (2) PayPal (3) Mail (Either certified check or personal check.
* All fees are paid by the customer. Product ships after funds are cleared.