MANUALS
FAQ's
1. How long is the wait/lead time for a new Sniper?
We can ship your purchase within two days of receiving you order and payment.
2. Does it mate up with the Preston handset 3 or C-Motion?
Preston has provided us with the protocol to make the interface cable. We are currently in the  process of making this cable. However with the wireless option of the display, pairing with the Preston is not necessary. We will post when the cable is ready.
As to C-Motion the Ward Sniper Mark 3 mates with their product.
3. Is it waterproof?
As much as a camera is.
4. What"s the total cost of the Mark 3?
It is $8,775 US dollars for the starter package. Or $10,475 US dollars for the Pro Package.
5. Do you rent the Mark 3?
yes we absolutely do, we have it on a number of Episodic TVshows in Los Angeles, CA and New Orleans, LA. Office number is 213.440.0480. Office Manager is Jon.
6. What does it rent for?
We charge $600 US a week per unit. Some owners are charging an additional $25 a day for each wide beam.
7. Is it CE certified?
Yes, The Mark 3 has all pertinent certifications including CE, FCC, and FDA.
8. Does the wireless work with more than one Mark 3 on a set?
Yes, with the advanced communication of the Mark 3, pairing is simple. At start up, have the display hardwired, when the Sniper logo goes away and the numerical data appears, the unit is paired; now you can disconnect and have up to 4 Mark 3's on a set wireless.
8. What's an OLED? Also, why did we build the display around it?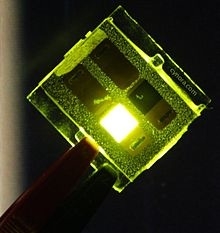 An OLED (organic light-emitting diode) is a light-emitting diode (LED) in which the emissive electroluminescent layer is a film of organic compound which emits light in response to an electric current. This layer of organic semiconductor material is situated between two electrodes. Generally, at least one of these electrodes is transparent. OLEDs are used to create digital displays in devices such as television screens, computer monitors, portable systems such as mobile phones, handheld games consolesand PDAs.
There are two main families of OLEDs: those based on small molecules and those employing polymers. Adding mobile ions to an OLED creates a light-emitting electrochemical cell or LEC, which has a slightly different mode of operation. OLED displays can use either passive-matrix (PMOLED) or active-matrixaddressingschemes. Active-matrix OLEDs (AMOLED) require a thin film transistor backplane to switch each individual pixel on or off, but allow for higher resolution and larger display sizes.
An OLED display works without a backlight. Thus, it can display deep black levels and can be thinner and lighter than a liquid crystal display (LCD). In low ambient light conditions such as a dark room an OLED screen can achieve a higher contrast ratio than an LCD, whether the LCD uses cold cathode fluorescent lamps or LED backlight. Due to its low thermal conductivity, an OLED typically emits less light per area than an inorganic LED.
We built the display around the OLED because of the necessity for speed; a traditional LED or LCD had too great of lag time in order to construct the numerical data when transferring the information from wireless. Also, it's too cool for words!
UPDATES
New stuff:
08/20/2013
Pairing: The unit comes from our factory already paired with its display. If for some unforeseen reason the unit becomes unpaired, do the following.
Power up Sniper, plug in display cable to display, hit menu button, scroll down to Pair Unit, hit enter, when done, unit says Paired.
08/20/2013
CODE UPGRADE
See above attachment
Legal
Limited Warranty.  Warranty Disclaimer.  Focus Technologies warrants to the original purchaser ("Buyer") that the Equipment will be free from material defects in material and workmanship under normal use.  The foregoing warranty is subject to the proper installation, opening and maintenance of the Equipment in accordance with installation instructions and the operating manual supplied to Buyer.  Warranty claims must be made by Buyer in writing within 30 days of the manifestation of a problem.  Focus Technologies' sole obligation under the foregoing warranty is, at Focus Technologies' option, to repair, replace or correct any such defect that was present at the time of delivery or to remove the Equipment and to refund the purchase price to Buyer.  The Warranty Period shall run from the delivery of the Equipment and continues for 24 months thereafter.
Except as specified in this warranty section, all express or implied conditions, representations, and warranties including, without limitation, any implied warranty or condition of merchant-ability,  fitness for a particular purpose, non-infringement, satisfactory quality, or arising from a course of dealing, law, usage or trade practice, are hereby excluded and are expressly disclaimed by Focus Technologies.  To the extent an implied warranty cannot be excluded, recovery for any breach of such warranty is limited to the remedies set forth herein.  This disclaimer and exclusion shall apply even if the express warranty set forth above fails of its essential purpose.
2.   Limitation of Remedy.  The remedies of Buyer set forth in section 1 above are exclusive and the total liability of Focus Technologies with respect to this Agreement, whether based on contract, warranty, negligence, indemnification, strict liability or otherwise, shall not exceed the purchase price paid by Buyer for the Equipment upon which liability is based.  In no event shall Focus Technologies be liable for consequential, incidental or special damages.  Regardless of whether any remedy set forth herein fails of its essential purpose or otherwise, in no event will Focus Technologies be liable for any lost revenue, profit, business interruption, loss of capital or for special indirect, consequential, incidental, or punitive damages however caused and regardless of the theory of liability or whether arising out of the use or inability to use the Equipment or otherwise.
3.   Indemnity.  Buyer shall indemnify and hold Focus Technologies, its parent, subsidiaries, affiliates, employees, consultants and representatives harmless from any loss, damage claim, cost or expense (including attorneys fees) directly or indirectly arising from the inspection, pick-up, purchase delivery or use of the Equipment or arising from Buyer's inability to use or improper use of the Equipment either separately or in combination with any other equipment or for any other cause.
4.   Entire Agreement.  This instrument comprises the entire agreement between Buyer and Focus Technologies; and it shall not be amended, altered or changed except by a written agreement executed by the parties hereto.
5.   Waiver.  No failure on the part of Focus Technologies to exercise and no delay in exercising any right or remedy here under shall operate as a waiver thereof; nor shall any single or partial exercise by Focus Technologies of any right or remedy here under preclude any other or further exercise thereof or the exercise of any other right or remedy.
6.   Severability.  If any term or provision of this Agreement is found invalid or unenforceable for any reason, the remaining provisions of this Agreement shall continue to be valid and enforceable.  If a court finds that any provision of this Agreement is invalid or unenforceable, but that by limiting such provision, it would become valid and enforceable, then such provision shall be deemed to be written, construed, and enforced as so limited.
7.   Governing Law.  This Agreement shall be subject to and construed in accordance with the laws of the State of California without reference to its conflict of law rules.  The venue and jurisdiction of any litigation related to, arising out of, or connected with this Agreement, shall be exclusively in a state or federal court located in Los Angeles County, California.  The prevailing party in any dispute between Buyer and Focus Technologies shall be awarded its attorneys' fees and costs incurred therein, including any on appeal.
8.  This Agreement shall be binding up on and inure to the benefit of the parties and their respective heirs, successors, licensees, and permitted assigns.